SHOWS:
Promo Video-Irish Tour-Songwriters On Tap
BREAKING NEWS! Thanks to 98FM, RTE Radio 1 (Fiachna O Braonain), KCLR (Roddie Cleere), 8radio.com for playing Cynthia Catania´s new single PHONES to promote the tour.
"Songwriters On Tap Presents" An Unplugged Evening With Singer-Songwriters' Naimee Coleman, Annmarie Cullen (of Saucy Monky), Cynthia Catania (Saucy Monky) and Sylvie Lewis.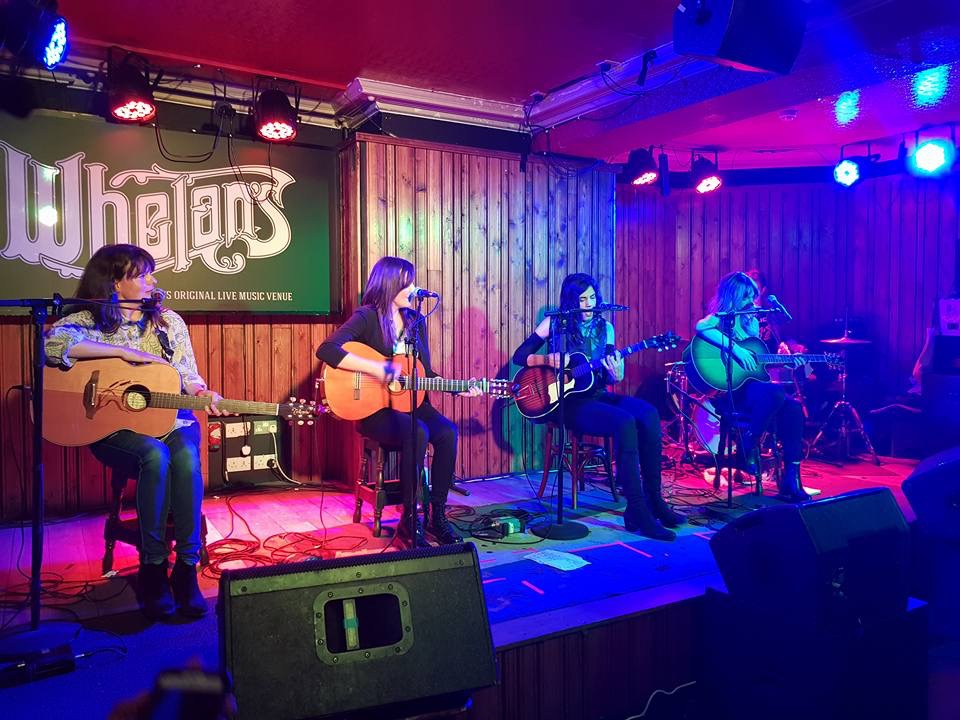 Press Release – Songbirds Annmarie Cullen, Cynthia Catania, Naimee Coleman, and Sylvie Lewis formed a bond and lifelong friendships while living in Los Angeles, California.
Annmarie and Cynthia were enjoying Network TV and Film placement success with their Indie Pop band Saucy Monky, as well as frequent tours to Ireland and Central Europe, where they performed with their heroes on the stages of Oxegen Festival (Wilco, Pink, PJ Harvey, The Cure), The Colours Festival (Marianne Faithful, Gipsy Kings). They were also on the 02 In The Park bill with Girls Aloud and Westlife. [Stream the original footage HERE].
Naimee was recording a solo album, shortly after charting with Aurora and performing their hit collaboration "Ordinary World" on Top Of The Pops.
Sylvie had graduated from the renowned Berklee School Of Music in Boston, signed her first record deal and landed a song placement in Grey´s Anatomy. Prior to moving to America, Sylvie started her recording career with Sir George Martin at AIR studios in London at age 15.
Marriage and/or motherhood have scattered the girls around the world, but they are pleased to announce their second "in the round" songwriters circle (dubbed "Songwriters On Tap") coming up at:
In addition to these tours, Cynthia and Annmarie will be appearing on
September 13 at Mullarkeys in Cllifden 9:30pm
September 15- Waterford Central Arts Centre. 9pm. 10 Euro
Akin to their first tour of Ireland in 2017, the shows will be all-acoustic affairs with everyone on stage together "in-the-round-style¨, with banter, stories, and harmonies to boot! Special guest Adam Marcello (Katy Perry, American Idol and Saucy Monky) will be sitting in on percussion on the Dublin and West Cork shows. Fans of Saucy Monky will not be disappointed! Annmarie and Cynthia will play songs from their respective catalogs, as well as newer music from their solo endeavors.
FUN FACTS:::
Naimee
Recorded her first EMI Records album at Abbey Road in London

Performed at the Hollywood Bowl with Robin Gibb!

Met her idol and childhood crush, Patrick Swayze at a U2 concert.

Is married to former Saucy Monky drummer (and current Katy Perry drummer), Adam Marcello. Annmarie introduced them!
Sylvie
Has a strong Irish connection. Her father, journalist and broadcaster Sir Martyn Lewis studied at Trinity College and grew up in Coleraine.

Sir George Martin produced her first recording at AIR Studios when she was 15 Years old!
Annmarie
Got her first big break in LA while waiting tables. A dining Disney Channel executive was searching for a "fresh" songwriter for his brand new show "So Weird" starring Mackenzie Phillips. Annmarie ran home, grabbed her demo tape and was hired three days later!

Opened for Jerry Lee Lewis and comedian Freddie Starr (under her stage name "Annmarie Montade") before moving to the States.
Cynthia
Was a singer cast in the 'Larry Sanders Show' house band and reappeared for four consecutive months.

She married a 'Mars100' finalist, who may leave for Mars on a "one way ticket" if / when the project commences.

She's a music and travel blogger who's been writing the 'Hot Press Magazine' Sex Column for the past ten months!
Adam
Katy Perry´s Touring drummer for over 10 years

He was set on fire (briefly) during Katy´s iconic Super Bowl performance.

For a season, he was the house drummer for American Idol.

He married Naimee Coleman (courtesy introduction by then bandmate Annmarie Cullen).
For more information, promo requests, or to arrange an interview, contact:
For media and more, visit: www.SONGWRITERSONTAP.com
Annmarie Cullen, Cynthia Catania, Sylvie Lewis, Naimee Coleman, Adam Marcello